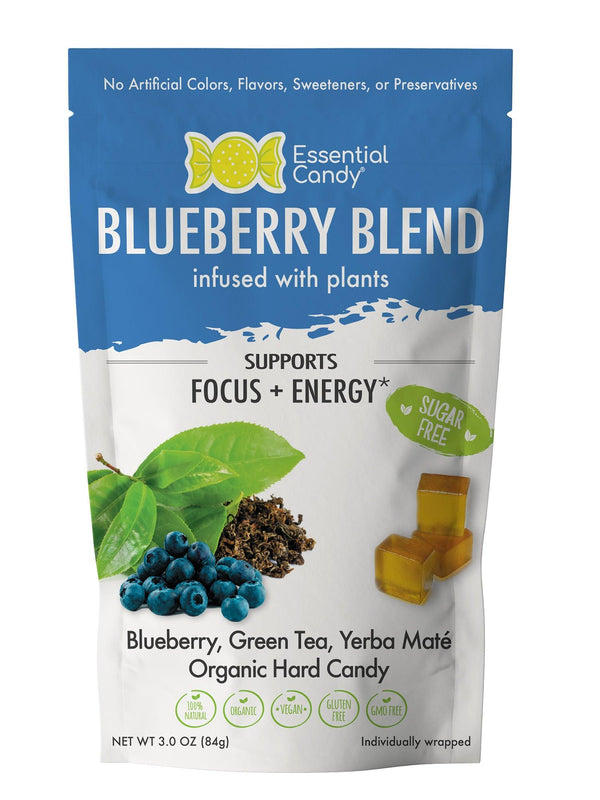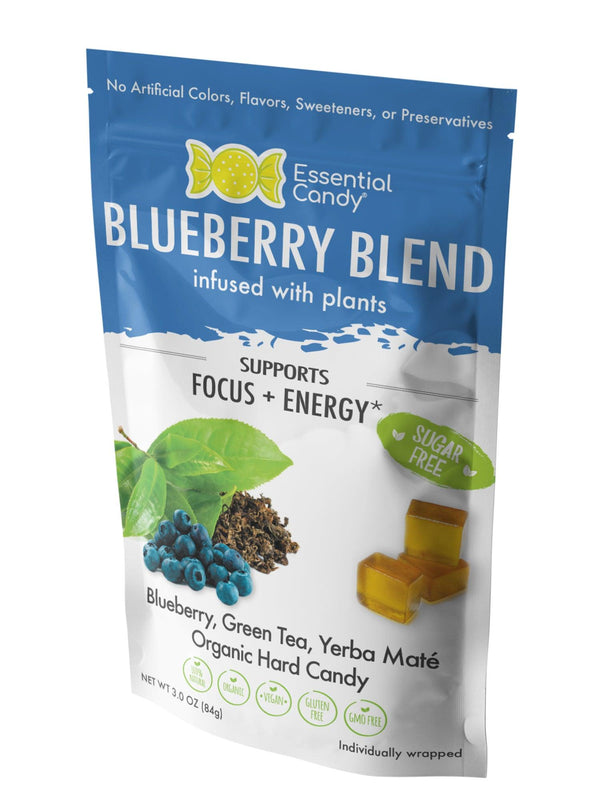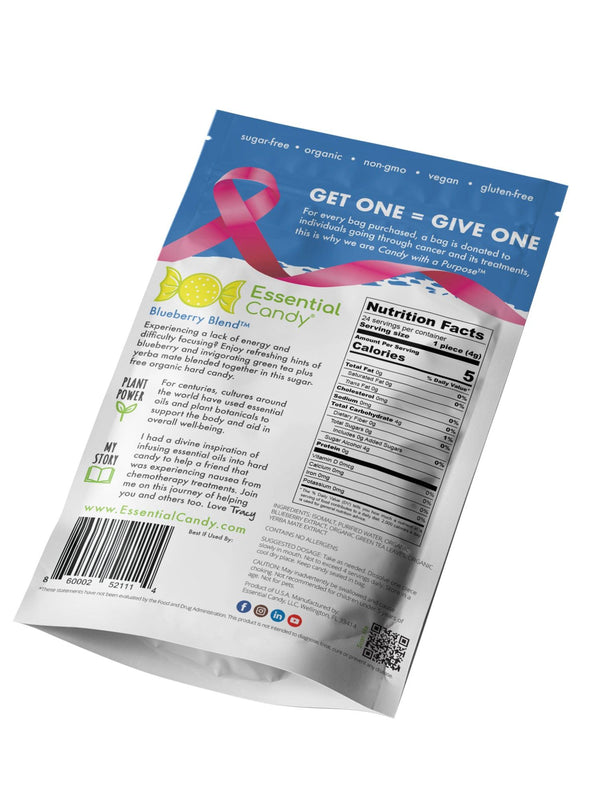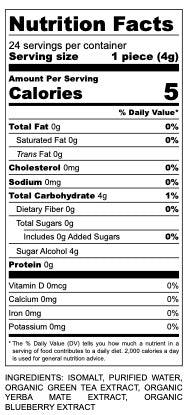 Blueberry Blend Sugar-Free Hard Candy with Green Tea and Yerba Maté
Blueberry Blend Sugar-Free Hard Candy with Green Tea and Yerba Maté 
**FOR A LIMITED TIME ONLY**
Let's raise a cup of tea, I mean, a healthy hard candy that is our new sugar-free Blueberry Blend for our Candy of the Month.
Delicious and yes Sugar-Free, this healthy organic hard candy is made with organic Blueberries, and infused with organic Green Tea and organic Yerba Maté leaves.
This sugar-free blend is perfect for those individuals watching their sugar intake and at only 5 calories per piece, even those counting calories can indulge.
Blueberries have been known to be rich in antioxidants, and when paired with Green Tea and Yerba Mat´leaves, are a mild stimulant from naturally occurring caffeine, and are harvested for their many benefits including polyphenols (natural compounds to help reduce inflammation).
Each 3oz resealable bag contains about 24 individually wrapped hard candies.
CANCER SUPPORT: For every bag purchased, we donate one to someone going through cancer and chemotherapy treatments. We call this 'Get One Give One'


ESSENTIAL OILS + PLANT BOTANICALS: May help to provide energy and focus along with antioxidant properties




SO GOOD: Taste the delicious combination of refreshing blueberry, invigorating green tea, and rich yerba maté in this organic hard candy

100% ALL-NATURAL: Sugar-Free, Organic, Non-GMO, Gluten-Free, Vegan, Soy-Free, Dairy-Free

NOTHING ADDED: No Artificial Colors, Flavors, Sweeteners, or Preservatives

TAKE ON THE GO: Each of our functional and adaptogen hard candies is in a resealable pouch bag containing about 24 individually wrapped hard candies

SUGAR-FREE + LOW CALORIES: Each piece contains less than 5 calories and no sugar
INGREDIENTS: ISOMALT, PURIFIED WATER, ORGANIC ORGANIC GREEN TEA LEAF EXTRACT, ORGANIC YERBA MATE´ EXTRACT, ORGANIC BLUEBERRY EXTRACT
CONTAINS NO ALLERGENS
*Note that each Candy of the Month Blend comes in a generic bag but contains the same great healthy hard candies inside.