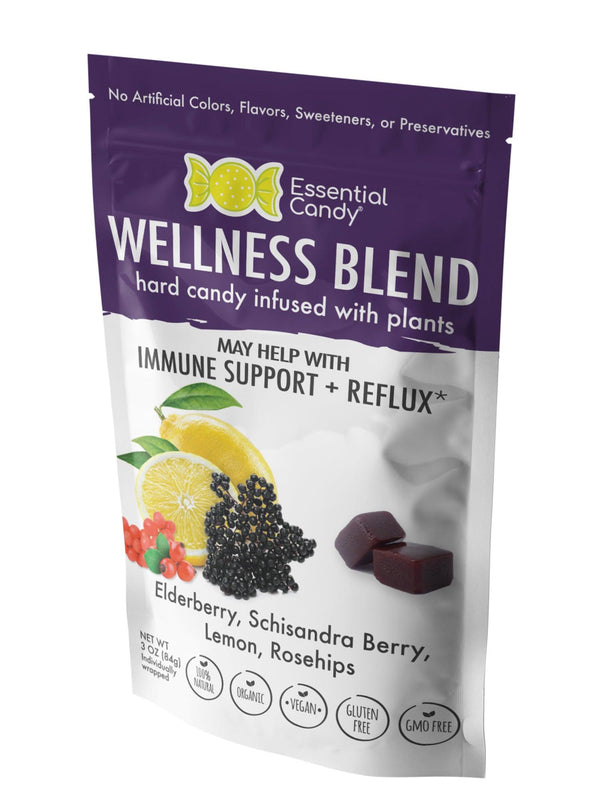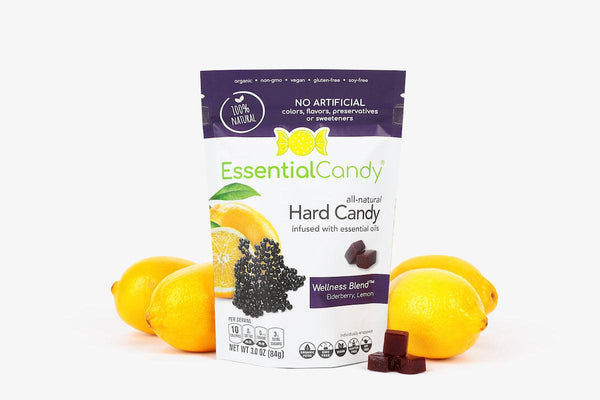 Wellness Blend Organic Hard Candy with Elderberry, Schisandra Berry, Lemon and Rosehips
Support Your Immune Health with Our Wellness Blend™ Organic Hard Candy
Discover the secret to daily immune support and well-being with our Wellness Blend Organic Hard Candy. Carefully curated with potent ingredients such as elderberry, schisandra berry, lemon, and rosehips, this blend boasts a rich history of combatting cold and flu symptoms, supporting the immune system, while potentially aiding acid reflux.
🍇 Elderberry - Immune Booster: Savor the natural goodness of elderberry in every candy. Renowned for its immune-boosting properties, elderberry has been a trusted ally in supporting your body's defenses.
🌸 Schisandra Berry - Well-Being Adaptogen: Experience the holistic benefits of schisandra berry. It is recognized for its potential to enhance overall well-being, support immune health, improve liver function and aid during times of stress.
🍋 Lemon - Zest for Health: Enjoy the zesty and revitalizing notes of fresh lemon. Lemon may provide relief from congestion, offering a refreshing touch to your well-being.
🌹 Rosehips - Nature's Vitamin C: Discover the potential of rosehips to aid in fighting cold and flu symptoms. Beyond their vibrant color and delightful flavor, rosehips have been cherished for their immune-supporting properties.
🌟 Holistic Wellness: Our Wellness Blend Organic Hard Candy is a delicious and holistic way to fortify your immune system and potentially ease symptoms of acid reflux. It's nature's remedy, thoughtfully blended to enhance your well-being.
🫶 Crafted with Care: Each candy is meticulously crafted to capture the essence of these remarkable ingredients. With every candy, we aim to offer you a moment of natural goodness and potential immune support.
🍬

 

Convenience On-The-Go:

 

Individually wrapped for your convenience, our all-natural, organic candies are the perfect remedy for your busy lifestyle. Slip a few into your bag or pocket to enjoy support wherever your day takes you.
🌟

 

Flavorful and Functional: Each 3oz resealable bag contains approximately 24 candies, ensuring you have a convenient supply to support your well-being.
Elevate your well-being and boost your immune system with our Wellness Blend. It's a delightful and adaptogen-supportive blend of elderberry, schisandra berry, lemon, and rosehips, perfectly capturing the essence of nature's healing properties. Embrace each day with a strengthened immune system and holistic wellness, one delicious hard candy at a time.
100% Plant Ingredients You Can Trust:

Organic Goodness: We believe in the power of nature, which is why our hard candy is meticulously crafted using organic ingredients. Every sweet bite is a taste of purity and quality.
Non-GMO Assurance:

 We're committed to transparency and responsible sourcing. Our candies are made with non-genetically modified organisms, ensuring your peace of mind.

Gluten-Free and Vegan:

 We understand the importance of catering to various dietary preferences. That's why our hard candy blends are both gluten-free and vegan, providing a delectable treat for all.

Soy and Dairy-Free:

 Our recipe excludes soy and dairy ingredients, making it suitable for those with specific dietary restrictions or allergies.

No Artificial Additives:

 We take pride in creating a candy that's free from artificial colors, flavors, and preservatives. Each piece is a true reflection of nature's goodness.

Low Sugar + Low Calories: 

Each piece contains less than 3 grams of organic raw unrefined cane sugar and less than 10 calories.
Your Purchase Is Making A Difference:
🎗️ CANCER SUPPORT: Join us on our mission of helping individuals going through cancer and chemotherapy treatments. For every bag purchased we donate one. We call this 'Get One Give One' which is why we are Candy With A Purpose.
INGREDIENTS: ORGANIC CANE SUGAR, ORGANIC BROWN RICE SYRUP, PURIFIED WATER, ORGANIC ELDERBERRY EXTRACT, ORGANIC SCHISANDRA BERRY EXTRACT, ORGANIC ROSEHIPS EXTRACT, ORGANIC LEMON OIL 
CONTAINS NO ALLERGENS